We at G+H Noise Control are always happy to support you with all your questions and tasks regarding noise control in aviation. With our comprehensive expertise and more than 50 years of experience, we are able to take care of all aspects of the project: from project management, consulting and engineering through to the development of tailor-made solutions and installation. We provide our customers with complete systems to meet all acoustic, aerodynamic and technical requirements in the field of aviation – such as noise protection hangars for large aircraft.

We are a full-service provider and with our interdisciplinary team of engineers we are able to provide you with a complete package that is tailored to your needs.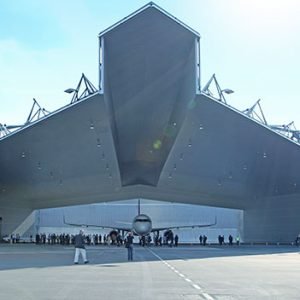 Closed noise protection hangars (run up pens) for engine test rigs were built by G+H Noise Control as early as 1962 at Hamburg Airport, and further hangars followed in Munich, Leipzig and Zurich. Depending on the technical requirements, we construct wall systems, partially open hangars or completely closed hangars. For testing engines that have not yet been installed in the aircraft, we construct engine test cells.
To meet the particular requirements relating to military aircraft, we also produce specially developed units known as military hush houses. These are used for testing the installed engines of military jets under autonomous conditions on the ground. If a complete package is requested, the hush houses and test cells are supplied with functional components such as air intake and air exhaust systems, flow control baffles, fuelling facilities and fire extinguishing systems.
Are you planning something of this kind, or maybe something quite different? Give us a call! We are one of the pioneers in aviation sound protection and can construct noise protection hangars tailored precisely to your needs.