With its Elasto® and Vibrofund® sheets, G+H Noise Control offers its customers isolation sheets for vibration controlled bearings for machines or plant. Depending on the version selected, the polymer-based Elasto sheets are either ribbed on one or both sides, or, in the case of the Vibrofund® version, have a knobbled surface on one side, and have special insulating properties which dramatically reduce the transmission of impact-type or periodic disruptive loading. This means that they form the ideal basis for reducing vibration.
The Perbunan polymers used here endow the rubber insulation sheets with many advantageous properties. Our Elasto® sheets demonstrate excellent resistance to wear and abrasion and can be used within a wide temperature range of -40°C to +140°C . The isolation sheets are also resistant to alkaline solutions, petrol, aliphatic solvents, oil, grease and water.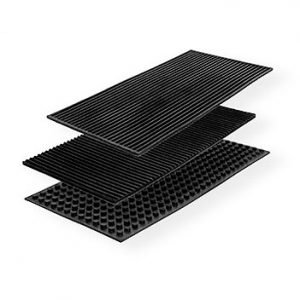 The vibration isolated bearings for machines and plant restrict the amplitude of vibrations generated during the start-up and shut-down of machines, for example, or shorten the oscillation decay processes by means of material damping. Generally, the isolation sheets can be installed without any additional fixings thanks to the high coefficient of friction. Our customers also find the Elasto® and Vibrofund® sheets easy to handle, and can cut the sheets to size by hand quite easily using a knife.
The various versions at a glance:
Elasto®-E sheet
Elasto®-Z sheet
Vibrofund® sheet