Deep-freezing systems and LNG systems with all their associated pipes, tanks and containers, require professional cryogenic insulation. This is because maintaining constant ultra-low temperatures poses particular challenges for the insulation materials and techniques used.
As one of Europe's leading suppliers of technical insulation, we are your point of contact when it comes to top-performance insulation systems of the highest quality standard. As well as ensuring the reliable operation of the plant, we also focus on the safety of the people who work there.

Liquefied natural gas poses a special challenge
In comparison to other fossil fuels, liquefied natural gas (LNG) represents a more environmentally friendly way of supplying energy. To facilitate storage and transport, LNG is cooled to a very low temperature. The gas does not liquefy until it reaches a temperature of -160°C, at which point its volume decreases dramatically. It is important, therefore, that the storage tanks and pipelines are well insulated, to prevent premature regasification.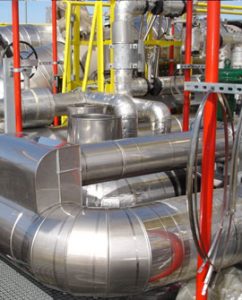 At G+H Insulation, we use multi-layer cryogenic insulation with perfect-fit foam glass shells for this purpose, and shells made of polyisocyanurate insulation material (PIR). With internal and external vapor barriers made of aluminum or aluminum-bitumen foil, we also protect the plant from corrosion and prevent the formation of condensate or ice. Our effective cryogenic insulation not only protects the quality of the LNG product in this way, but also has a positive effect on energy efficiency for our customers.