The efficiency and reliability of a gas turbine power plant are determined not only by the air intake system or the gas turbine itself, but also by its exhaust system. Finding the optimum combination to meet all of the, often conflicting, demands of fluid mechanics, acoustics, heat transfer, structural stability and vibration engineering is the only way to achieve the best results here.

G+H Noise Control offers customized stacks and exhaust systems which take into account all technical and economic aspects and thus meet the customer's expectations in full.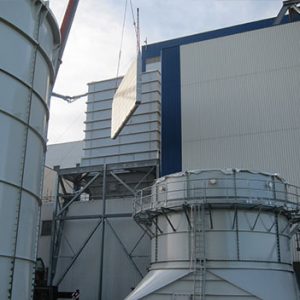 Providing the right system for every type of requirement
Our range of services covers all of the necessary parts and components for gas turbine exhaust systems of all performance classes. These include double-walled stacks for small gas turbines, such as those found in industry or in natural gas compressor stations, as well as stacks with interior insulation for the world's largest gas turbines in power plants. Our exhaust gas systems and complete stack constructions minimize noise emissions from gas turbines effectively and economically.
Our range of products includes the following solutions:
Exhaust gas flues, flue sections and diffusers
Stacks of various shapes and heights
Exhaust silencers with optimal flow control and resistance to high temperatures
Heat and sound insulating internal and external insulation for exhaust flues and heat recovery boilers
Steel and fabric expansion joints for structural separation of construction components
Flow control vanes for effective reduction of turbulence