PYROMENT®-IK90, developed by G+H Insulation, is the first electrical installation duct (I-duct) to actively dampen cable fires and thus minimize consequential damage and costs. If a fire should start in a cable duct – due to a technical defect, for example – it could spread for several hundred meters through conventional ducts, in the worst case scenario. PYROMENT®-IK90 can prevent this kind of damage.

The I-duct comprises a galvanized or stainless-steel sheet with a special intumescent insulation sheath and a top coating. In a fire, the insulation sheath foams up immediately, thus – in contrast to conventional electrical installation ducts – actively stopping the spread of fire within the ducts. PYROMENT®-IK90 is the first electrical installation duct to be approved throughout Europe.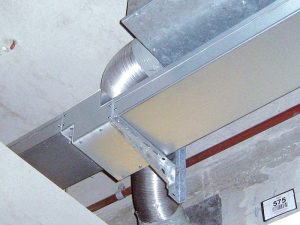 Best possible cable protection in escape routes
In addition to stopping the spread of cable fires to the surroundings, PYROMENT®-IK90 also prevents the formation of hazardous smoke. This ensures that escape and rescue routes are kept clear for the evacuation of people and for the fire service.
The duct's thin, lightweight material makes it quick to install, easy to retrofit and easy to fix in place, even in confined areas where access is difficult.
PYROMENT®-IK90 product properties
Actively stops the spread of fire in cable ducts
Safeguards escape and rescue routes
Reduces consequential damage and the associated costs of a cable fire to a minimum
Tested in accordance with DIN 4102 Part 11 and approved by the building authorities for use in Germany
European approval (European Technical Assessment ET-15/0293) on the basis of European testing standard 1366-5
All the advantages at a glance
Thinner than conventional systems
Suitable even where space is restricted
Perfect-fit prefabrication
Quick and easy installation with time savings of up to 80%
Dust-free fitting, also for sensitive areas such as cleanrooms
The first electrical installation duct with European approval – Europe-wide sales and installation possible