Vibrex® longitudinal bedding, developed by G+H Noise Control, protects buildings from undesirable structure-borne sound and vibrations. These beddings provide optimum structure-borne sound insulation and are used as bearings for structures and structural components as well as for the inner shell of double-skin rooms, such as those used in radio and TV studios or measurement rooms. Vibrex® longitudinal beddings are also used as bearing elements for heating boilers, cooling towers, fans, ventilation units and similar devices to ensure structure-borne sound decoupling.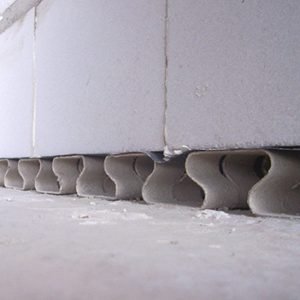 Bearings with structure-borne sound insulation and many advantages
The longitudinal beddings, used as bearings for walls, are only 41 mm in height when unloaded. Due to their special shape, the lowest natural bending frequency is so high that penetration through the structure-borne sound insulation within the relevant frequency range does not usually occur. Furthermore, the Vibrex® longitudinal beddings are covered with a special vibration-damping coating, which further optimizes the structure-borne sound insulation. Thanks to the linear load distribution, they are able to support planar construction components (such as slabs or panels) that have low bending stiffness. Quite often, this means that edge beams or girders can be omitted.
The bearing elements of the Vibrex® strips are made of stainless spring steel with a special coating that dampens vibration and structure-borne sound. Bonding plates are also available for fixing the strips and to compensate for any unevenness in the mounting surface. Our customers can also fit the longitudinal beddings with a riveted steel plate or U section, if desired.