With its MAFUND panels made of a highly elastic rubber mixture, G+H Noise Control has raised elastic bearings to a whole new level. Depending on the product type, one to four-layer isolation panels dampen excitations within their isolating layer and are ideal for use in test rigs, machine foundations and buildings. Due to the extremely high loading capacity of the panels, the use of strips (i.e. on partial areas) usually suffices. This allows us to achieve the greatest isolation effect with the minimum amount of material and to offer our customers a particularly cost-effective solution that is tailored to the actual conditions. The MAFUND panels can also be used without formwork.

MAFUND panels: Many benefits rolled into a single product
MAFUND panels are notable for their excellent ageing resistance and suitability for use at temperatures from -20°C to +80°C. And, of course, the rubber panels are also weather resistant. The high coefficient of friction of the MAFUND panels allows them to be used without any additional fixings in most cases. Whether as elastic bearings for machines, footfall sound insulation, or seismic isolation – the rubber panels find applications in buildings, test rig and machine foundations, discotheques, shopping malls, gyms, or along rail tracks, and offer our customers economic efficiency, efficacy and flexibility in use.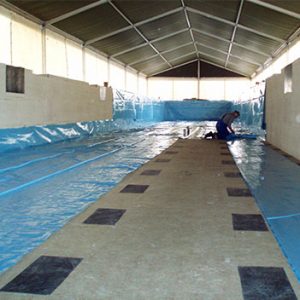 A solid foundation thanks to the MAFUND isolation system
The MAFUND isolation system is especially suitable for machine foundations. It comprises whole or cut-to-size MAFUND panels and an ideally suited fill material. The foundation isolates vibrations, minimizes the propagation of structure-borne sound and, moreover, reduces the transfer of dynamic forces to the ground. This allows foundations constructed with the MAFUND isolation system to be designed with significantly smaller dimensions than non-isolated foundations.
The various versions at a glance:
MAFUND
MAFUND-G
MAFUND-M
MAFUND isolation systems